Trickey's champion Charbroiled Burger
Friday, August 24, 2012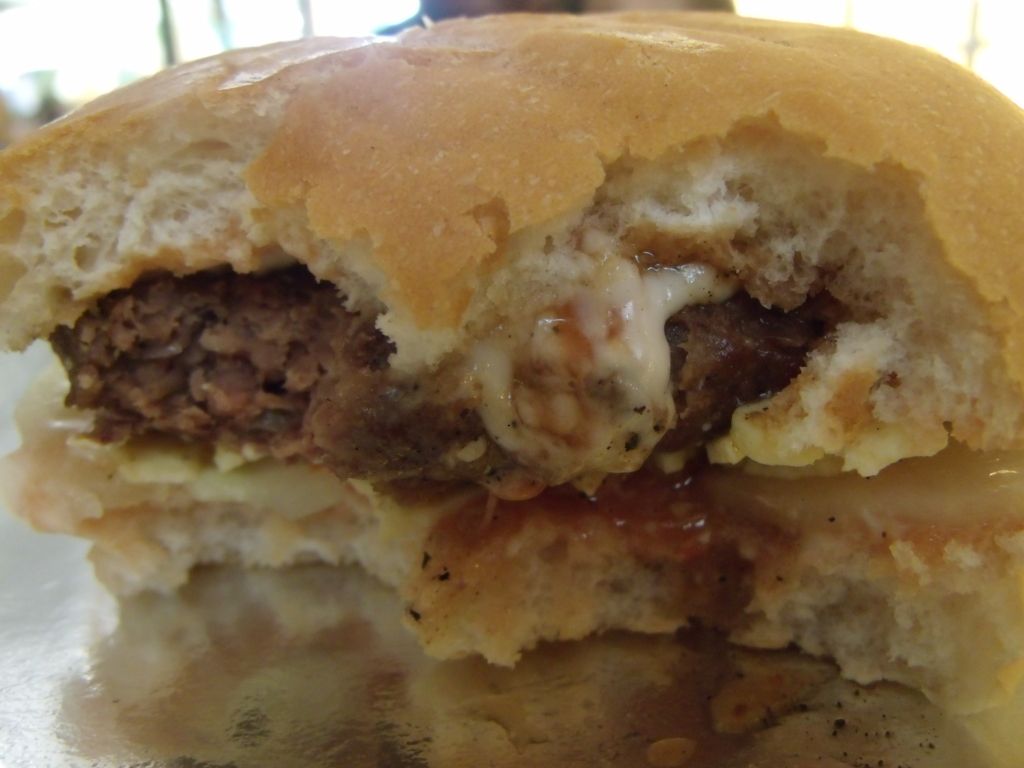 You have to admit that the best burger you've ever tasted was
the
one made by a woman in your family.
Sometimes you think you've found the best burger and try to stay loyal to it until you trip into a burger joint that completely changes your mind. After days and days of heavy rain, I wanted to go out and get a feel of the world outside.
I have a friend who says that if you live along C5, everything in that very long stretch is "just down the road". So thirty minutes later we were all at Tiendesitas.
There's a good number of food stalls at Tiendesitas that promise delectable food from different places in the Philippines. It does have a cultural feel to it, yet it's also an event hall with a live band and a huge space for people who want to unwind with a bottle of beer--or half a case of it. I saw three people who were ready to pass out at two p.m.
Where there's beer there's cigarette smoke so we had to find a spot that was "almost far" from both because we had the kids with us.
The farthest stall happened to be Trickey's and boy was I glad! To begin with, the service was good and the waiter made sure we had everything we needed unlike in other places where you'd have to constantly ask for things like ice or table napkins or whatever.
What makes a good burger?
It only takes a few things for a burger to make it to the to-die-for list. But I warn you, this is only according to me.
# 1 - No extenders. As soon as you bite into your burger you should instantly be catapulted to that heavenly spot in your brain that makes you forget all of the other burgers you have tasted in the (recent) past. According to a chef I interviewed a few years ago, the perfect patty has no extenders because they affect the tenderness, the juiciness and they alter the overall taste of the burger. Besides, if your quarter-pounder is not made 100% of the sinful all-meat ingredient, you'll know it.
# 2 – It doesn't drown in mayonnaise and ketchup. I've had burgers that tasted sour in a bad way--like the chef put too much mayonnaise or too much ketchup or too much of both combined on the bun... then accidentally left the patty to burn in the kitchen. A burger is not a burger unless you're ready to make your patty the star of the show.
# 3 – Nothing wilted in the bun. If the tomato and the lettuce aren't as fresh and happy as they should be then I'd rather wait for the next harvest.
# 4 – It brings back memories. Cheesy as it may sound but you have to admit that the best burger you've ever tasted was the one made by a woman in your family. Mine was by my Aunt Esme Judy. Whenever I bite into a really good burger, it would bring me back to those summer barbecue lunches we had in her backyard in Bohol. Her homemade burgers were divine.
# 5 - Patty perfect. But what they put in the patty or how they do it, I don't want to know.
I have surrendered to the fact that a good burger will never come from my kitchen.
Charbroiled burgers take some time to prepare, which is okay because it's definitely worth the wait.
All that I mentioned above make up the charbroiled burger of Trickey's. For a very reasonable price, you're guaranteed a very happy meal!
Here are the stuff that we tried. I may have gotten too "busy" so I forgot to take a photo of the Deluxe burger that my mother had.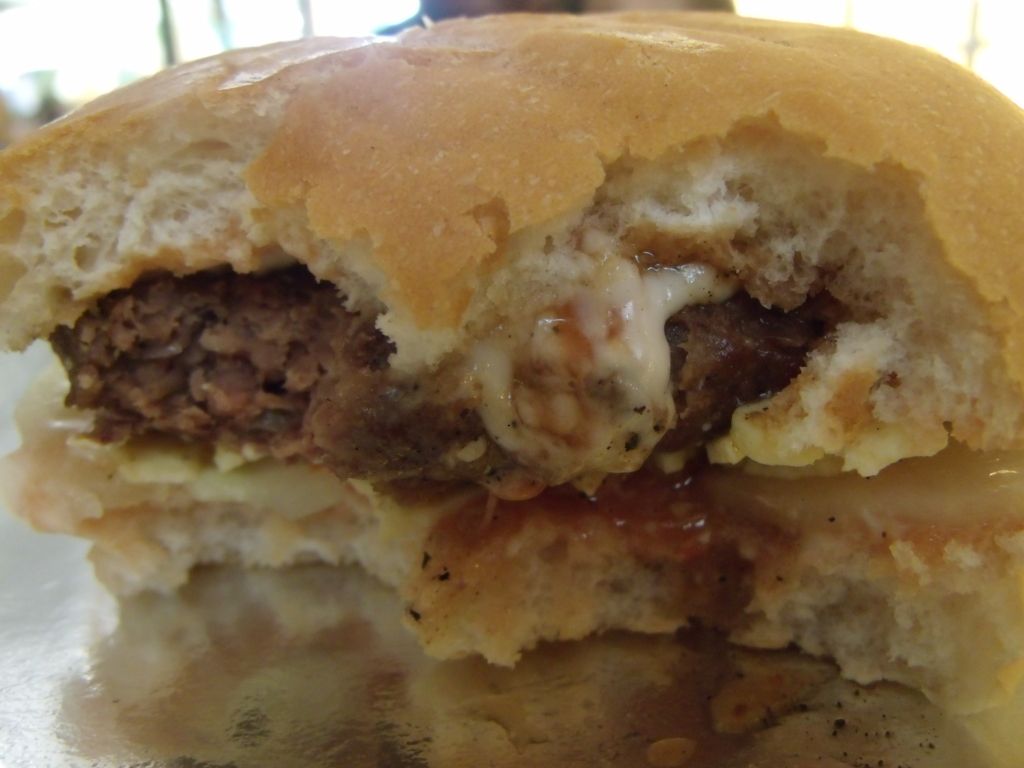 Charbroiled burger for only P 100
Beef barbecue steak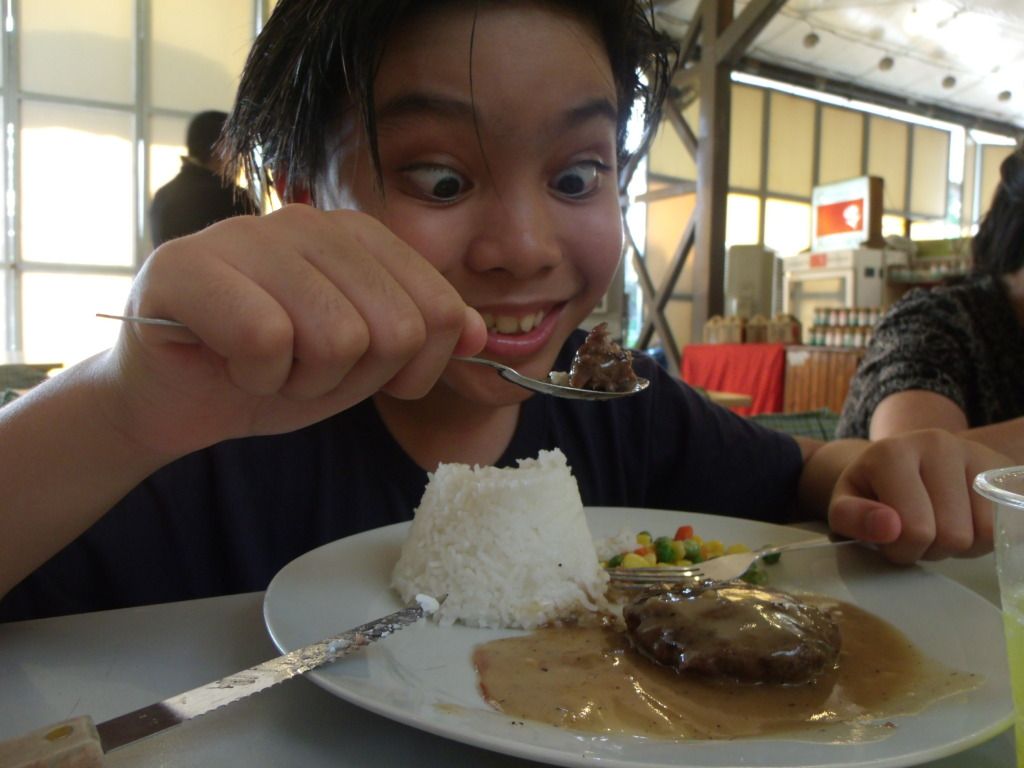 Cole enjoying his pork steak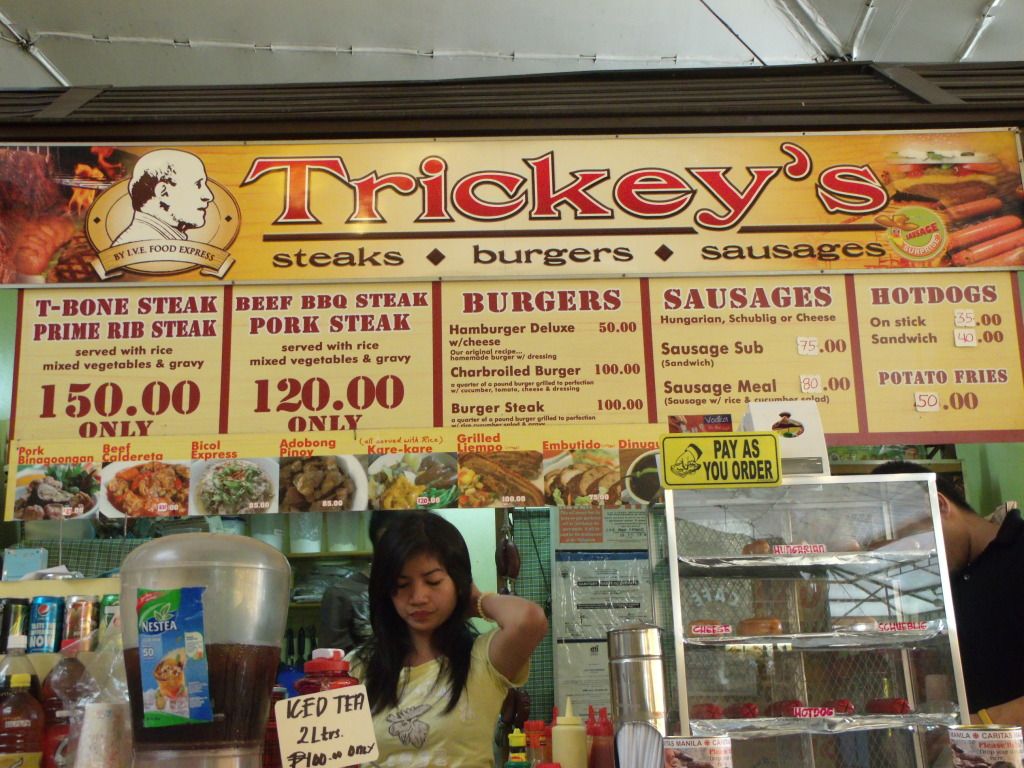 I meant it when I said everything's reasonably priced